Do You Want To Stop Running Late Because Once Again You Can't Find Your Car Keys? 
Do You Want To Stop Feeling Embarrassed; Because You Can't Remember The Name Of  The Person You Just Met? 
Do You Ever Walk Into A Room And Forget Why You Went In There?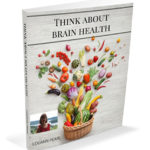 If any of the above resonates with you; then be sure to get my free guide "Think About Brain Health".

Promise Not To Spam You!